Food
Buttermilk Biscuits – Flaky, melt in your mouth!
[ad_1]

Delicious buttermilk biscuits are deceptively simple to make. They are flaky, melt in your mouth and you won't stop eating them. They stand tall and have the best layers. 
Check out some of our best side dishes too – buttery rolls, red lobster cheddar bay biscuits, homemade garlic bread and jalapeno cornbread.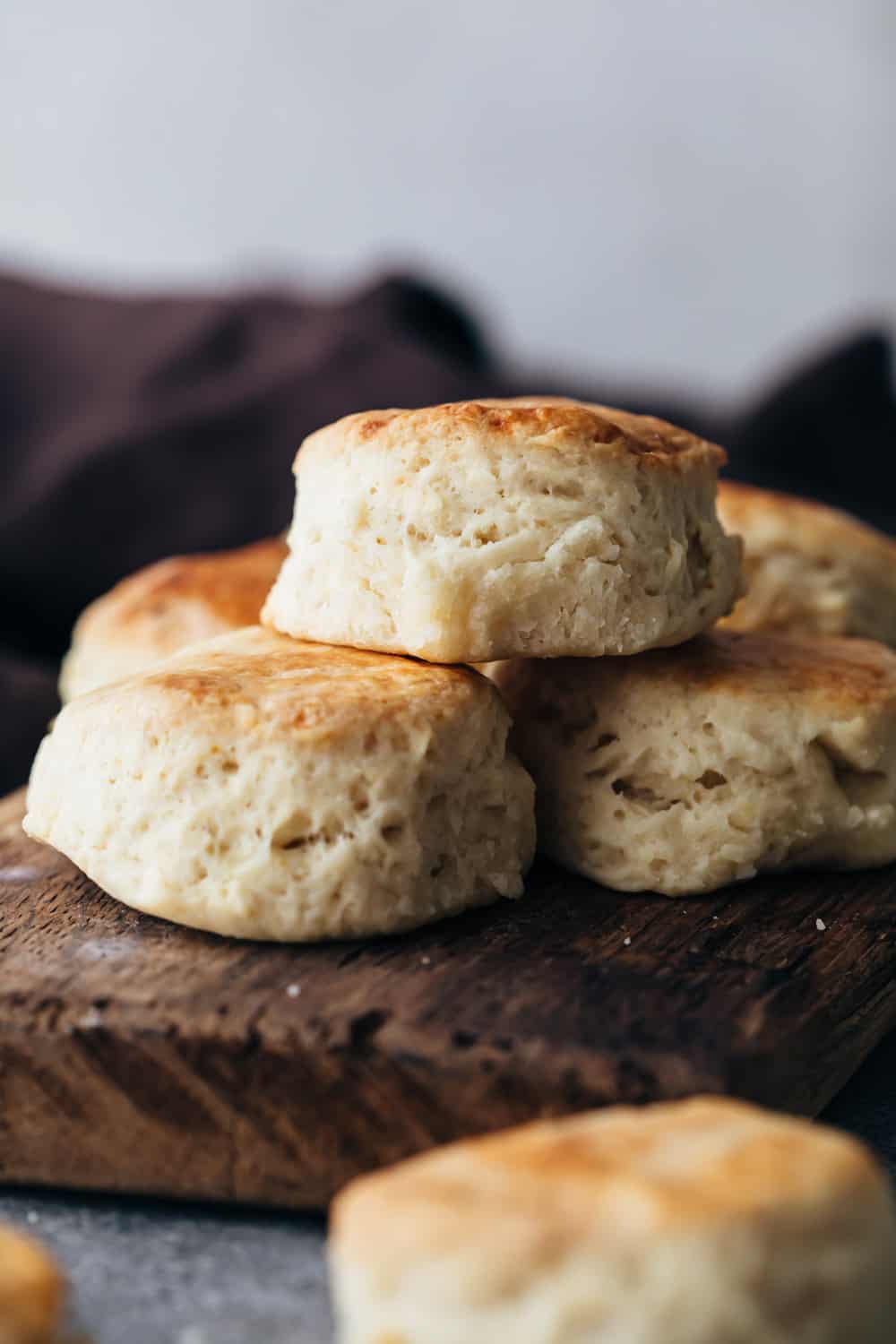 Homemade Buttermilk Biscuits
If you've ever wanted a recipe for sky high biscuits with the perfect layers, melt in your mouth texture and really the best that there is, these homemade buttermilk biscuits tick all the boxes! You won't wait for an occasion to make these because the family will be asking for them again and again.
There is nothing like breaking apart a warm biscuit, slathering it with butter and some honey (or maple syrup) and just digging in.
Ingredients for Buttermilk Biscuits
The list of ingredients for these biscuits is fairly short. You'll need flour, baking powder, baking soda, butter, buttermilk, salt and sugar. Its how all of these combine that gives you the best homemade buttermilk biscuits.
Trick to flaky, tall buttermilk biscuits
The trick to the best buttermilk biscuits is that you should have cold butter and buttermilk. So make sure that you use butter straight from the fridge. Don't leave it out on the counter while you do other things. In fact, you can cut up the butter and then place it back in the fridge for a few minutes while you get everything else together.
It's also important not to overwork the dough. The butter creates pockets which melt in the oven and then give these biscuits the most amazing flakiness.
We also use a technique similar to rolling croissants which works really well here. Once the dough is ready, roll it out into a rectangular, take one third and put it over the other third like an envelope. Roll it out again and repeat once more. This creates even more layers in the biscuits.
And seriously, you will be in biscuit heaven. I'm sure there is one somewhere! Serve this homemade sausage gravy or use these as a base for shortbread sundae. Yum!!
More Brunch Recipes
Homemade Buttermilk Biscuits
Prep Time 15 minutes
Cook Time 15 minutes
Total Time 30 minutes
Talk, flaky, melt in your mouth buttermilk biscuits – completely homemade, deceptively simple and delicious!
2 1/4

cup

All Purpose Flour

2

tsp

Baking Powder

1/4

tsp

Baking Soda

1

tsp

Salt

3/4

cup

cold Buttermilk

8

tbsp

fridge cold Butter

cut into 1/4 inch pieces

1

tbsp

Honey

2

tbsp

Buttermilk for brushing
Pre-heat oven to 425F/220C. Line a baking sheet and set aside.

In a bowl, whisk together flour, baking powder, baking soda and salt. Cut the butter into the flour mixture with a pastry cutter or a fork till it resembles coarse crumbs.

Add the buttermilk and use a spatula to combine till a rough dough forms.

Turn the dough out on a floured work bench and pat it into a rectangle. Fold the rectangle into thirds.

Give it a half turn, pat it back into a rectangle, fold it into thirds and repeat this once more.

Roll the dough out into 1/2 inch thickness. Cut 10-12 biscuits. While cutting the biscuits, don't rotate the cookie cutter.

Transfer the biscuits onto the lined baking sheet. Brush with buttermilk and bake for 15 minutes till the top is golden brown. Serve warm.
Nutrition Facts
Homemade Buttermilk Biscuits
Amount Per Serving
Calories 169 Calories from Fat 72
% Daily Value*
Fat 8g12%
Saturated Fat 5g25%
Cholesterol 22mg7%
Sodium 303mg13%
Potassium 116mg3%
Carbohydrates 20g7%
Fiber 1g4%
Sugar 2g2%
Protein 3g6%
Vitamin A 258IU5%
Calcium 55mg6%
Iron 1mg6%
* Percent Daily Values are based on a 2000 calorie diet.


[ad_2]

Source link