Videos
Harry Styles Performs on BBC Radio 1's Live Lounge
[ad_1]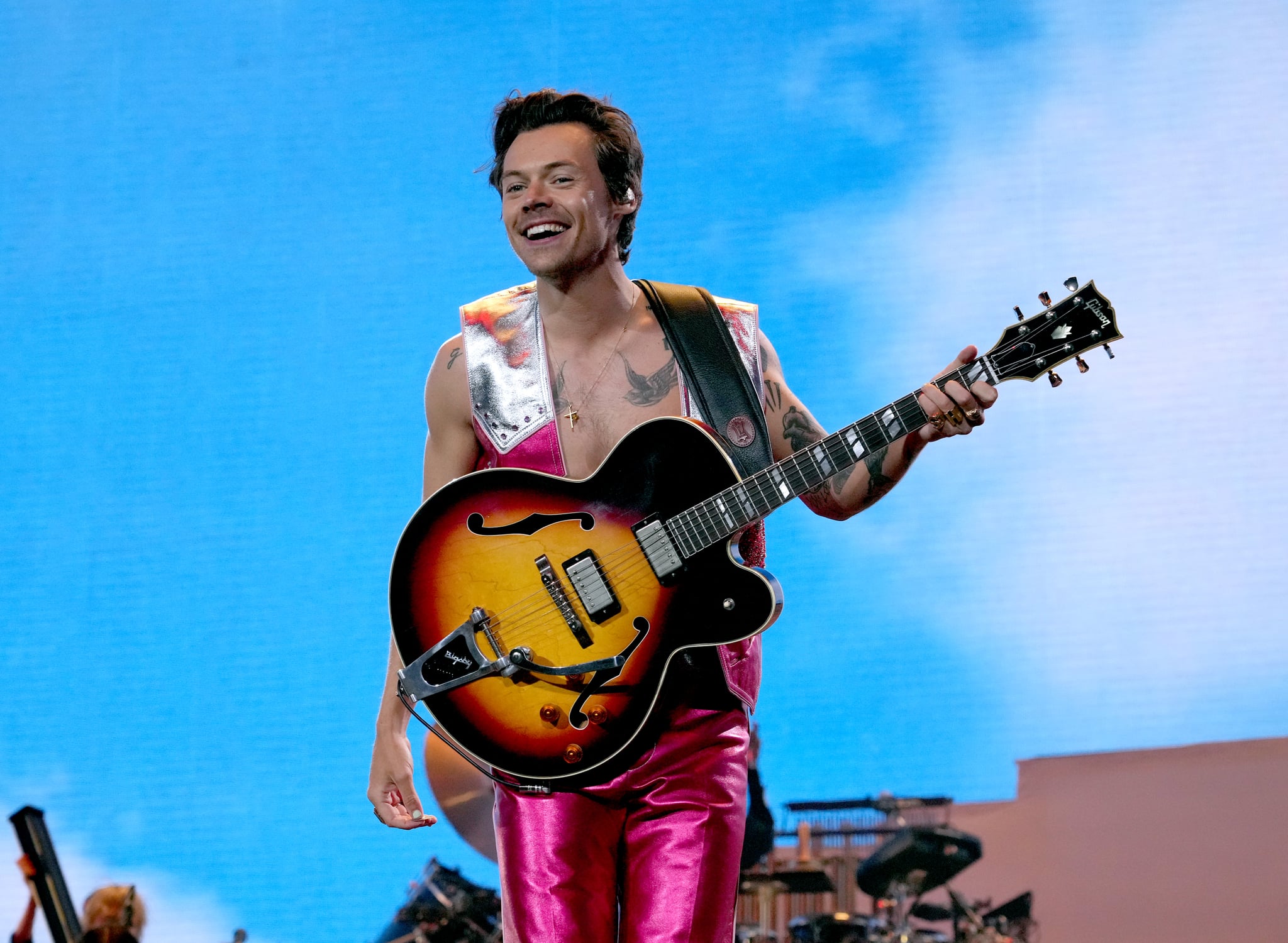 Image Source: Getty
Be still our beating hearts, Harry Styles sure knows how to make a girl blush. Taking to the iconic BBC Radio 1 Live Lounge for the first time since 2019, the singer performed four tracks including "As It Was", "Late Night Talking" and "Boyfriends" from his latest album. He ended his set with a cover of "Wet Dream" by British indie rock band Wet Leg that had us weak at the knees. It should be illegal to get us this worked up pre-midday.
"I enjoy it even more now than I think I used to" @Harry_Styles is happy to be back in the Live Lounge and we couldn't be happier to have him here 😌

'As It Was' sounds perfect ❤️ pic.twitter.com/nIlmIwk6D8

— BBC Radio 1 (@BBCR1) May 24, 2022
Wearing a tight-fitting yellow t-shirt tucked into wide-leg trousers and chunky belt, Styles kicked off with the, now iconic summer anthem, "As It Was". Playing live with his band, he revealed "it's nice to be in a room playing with people again" as the instantly recognisable intro eased us in. "I think I enjoy it even more than I used to", he said.
Next came the first radio performance of "Late Night Talking", which he unveiled was the first song written for the new album, "Harry's House". "It set the tone of the album", Styles explained in his laidback tone. "I've enjoyed dancing to it many times". So have we, Styles. So have we.
A change of pace came next with the buttery soft harmonies of "Boyfriends". Written at the end of the last album, "Fine Line", Styles explained that he didn't want to rush the track and so saved it for 2022. Describing the song as telling a story from a few different perspectives, he hooked us in when he said "Boyfriends? Who'd have them?" Preach.
As has become synonymous with the Live Lounge, it's the unusual covers that artists perform that is the real USP. In a solo capacity, Styles has previously sung Fleetwood Mac's "The Chain" back in 2017, and covered his pal Lizzo's "Juice" in 2019. This time around, he opted for "Wet Dream" by Wet Leg. "A friend played me "Chaise Loungue" and I really liked it. I like that it's fun and doesn't take itself too seriously," he said, as he revealed the band are heading out on tour with him in Australia and New Zealand.
✨ it's enough to make a girl blush ✨@harry_styles covering 'wet dream' by @wetlegband is just… wow pic.twitter.com/1AoCrNNSer

— BBC Radio 1 (@BBCR1) May 24, 2022
Both Styles and Wet Leg are performing on the same day at BBC Radio 1's Big Weekend this Sunday and there was a hint that a collab could be on the cards if they liked his cover. Well, the band tweeted the melting face emoji as a response and we get it. Lost for words and feeling hot under the collar? Us too.
— Wet Leg (@wetlegband) May 24, 2022


[ad_2]

Source link