Videos
Love Island's Amber Gill Makes Debut With Girlfriend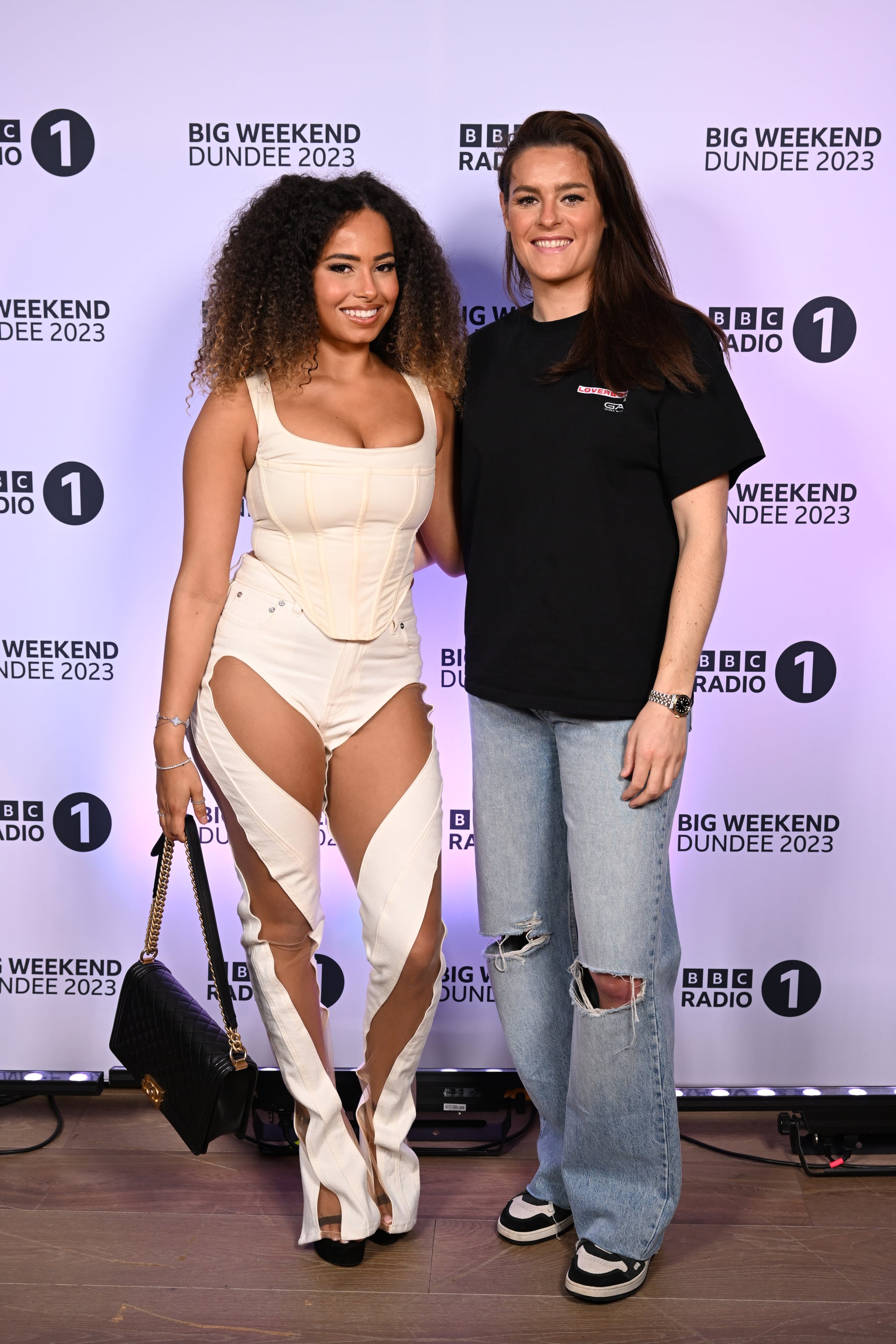 It's official: everyone's favourite Love Islander, Amber Rose Gill, has "hard-launched" her relationship with girlfriend Jen Beattie, as the pair headed onto the red carpet at BBC Radio 1's Big Weekend Launch Party on 15 March. The event marks the first time that the couple have been pictured together at an event, after the 25-year-old previously gave her fans a hint – or "soft launch" – of her relationship with the Arsenal footballer, 31, on her Instagram page.
The "Love Island" star cut a chic figure in a cream corset top and cut-out chaps combo which she teamed with black open-toe platform heels and a matching purse. And honestly, we'd be lying if we didn't say we're a little envious of her style. Cosying up to her Scottish football star beau, Gill styled her hair into her trademark curly hair and was positively glowing as she opted for the super on-trend "glossy skin" look. Beattie wore a pared-down 'fit in a black T-shirt, wide-leg ripped jeans, and a pair of monochrome Nike Dunk trainers.
Previously teasing her relationship on her social media, the 2019 "Love Island" winner took to Instagram at the beginning of March to share memories of the past month. "February you were cute jeans," she captioned her photo gallery, sharing a picture of an intimate meal out with her beau, holding hands, and tagging Beattie in the photo. The picture that followed was a stunning bouquet of red and pink roses, and it doesn't take a genius to work out who they could have been from.
We're thrilled that Gill and Beattie have confirmed their relationship, but the season five winner's journey of coming out as a member of the LGBTQ+ community wasn't always plain-sailing. In fact, the reality star "accidentally" came out on Twitter. In July 2022, the influencer revealed that she'd "switched teams" whilst discussing the questionable behaviour from men on last year's series of "Love Island". She tweeted, "Switching teams was the best decision I made in my life," and followed it up with, "Watching men makes me feel ill, I couldn't put myself through it again."
Gill confirmed that a string of tweets weren't quite how she planned to come out, telling Access All Areas on FUBAR Radio: "Accidentally, yeah. I remember looking at it [the tweet] and thinking, 'S**t, what have I said?'" But she soon realised that her tweets were "the typical way" she would have made the announcement, and we're so happy that Gill is able to live her most authentic life.