Weight Loss
Tom Grennan Doesn't Recognise Himself 3 Years Ago
[ad_1]

There's no denying that Tom Grennan is smashing life. After landing his second number one album, making his Glastonbury debut, and appearing on Channel 4's "Gogglebox" – all in a month – the 28-year-old is now training for a triathlon. Meeting POPSUGAR with post-swim wet hair, he's focused on a healthy lifestyle and admits that he no longer recognises the person he was three years ago.
"I'm a lot different now to what I was at 18. Even just compared to what I was like before Covid," he tells POPSUGAR. "I look back at pictures of me three years ago and I don't even recognise the person I was. I had just finished my second album, but it hadn't dropped yet. I was unhappy, sad, and a bit lost . . . doing some stupid things. I was definitely easily led and so I've changed it up and I'm trying to be a leader. My mum always told me to be me and not change for anyone else. Don't be a sheep, be a shepherd."
It's his authenticity that first got the Bedford boy noticed back in 2016 as the guest vocalist on Chase & Status's "All Goes Wrong", before blowing up with his hit track "Little Bit of Love" in 2021. Now on his third album, "What Ifs & Maybes" topped the charts just before he hit the road for Worthy Farm. "Glastonbury was a turning point. I think a lot of people may have heard of me, but had never seen me before and thought 'I'll go and check it out'. They were then coming up to me after and saying it was the best set of the weekend", he says. "I had a great time, it's a crazy place. I took a wee in the bush and got told off by a woman who said I'm messing up the farm."
"Don't be a sheep, be a shepherd."
On top of his jam-packed performance schedule, and soundtracking sporting events for the British Grand Prix and the Ryder Cup in September, Grennan is also launching the summer campaign for ice cream brand Magnum. The Magnum Pleasure Pass gives people the chance to win tickets to some of the biggest music and comedy events this summer, a response to saddening research that 69 percent of Brits are cutting back on in-person experiences. And Grennan is the perfect partner. Although he describes himself as a "fluffy ice-cream" and "one with sprinkles and red sauce" for added flavour, he once was an avid Reading Festival Fan and dubstep gig-goer before he started headlining festivals himself.
"They were always escapism for me," he says. "I want people to have the same, the chance to go and not worry about having to pay their bills. These experiences are a time to socialise, let go, and have fun. Nothing matters apart from dancing, singing and vibing with everyone."
There's one big difference for Grennan these days, though, as he admits that getting enough sleep is a priority. "If I've got a lot of anxiety, I know that I'm not having enough sleep. I get anxiety every day – I think especially with the world we live in, there's so much pressure on everybody," he explains. "Exercise, therapy, and sleep help me deal with it."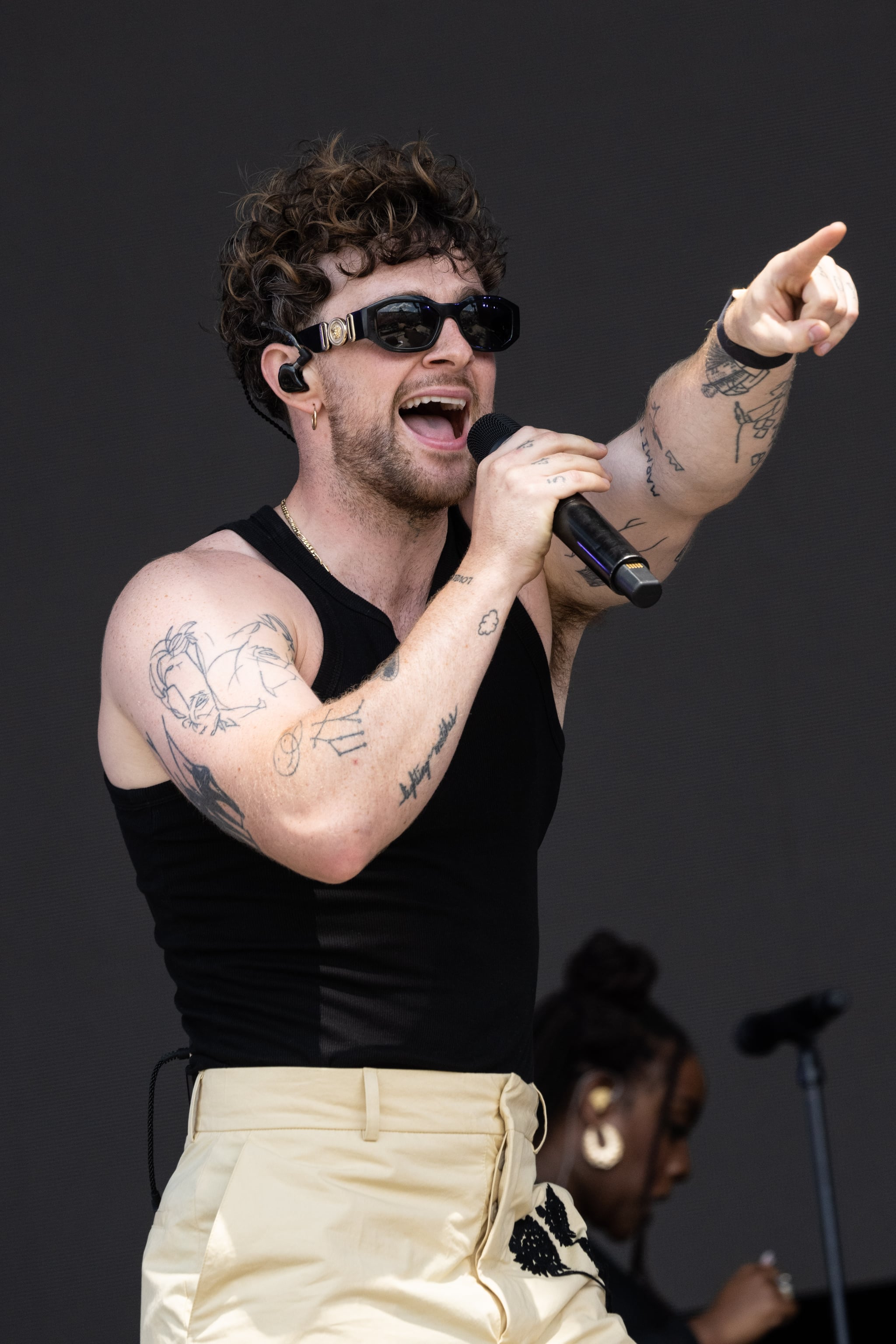 On top of his own success, he's keen to get his dad Martin in the spotlight more, too. The duo recently starred on celebrity Gogglebox together. "We didn't get a lot of airtime as we were just giving out on everyone. But it was amazing just being with my dad and just knowing that I can do things like this with my dad that I never thought I'd do," he tells us. "It was so funny. I think a lot of people already love him. I want to see where me and my dad can go and do something different to music." It's not the first time he's shared his success with his family either. "My first proper paycheck went on a family holiday to Barbados for my mum, dad, brother, and me."
While he's quick to reminisce over his first job working on a paper round, and later walking out of a position at Topman because he simply "can't stand still", he's now revealed that he's working on his fourth album. An impressive milestone for someone who began his professional career as a footballer; "I played for Luton for a few years, music didn't come to me until I was 18. I moved to London and taught myself guitar."
A decade later and his music schedule is busier than ever. "I'm just making the most of it. Taking it all in and enjoying every minute of it," he says. While a lot of these achievements may seem nerve-wracking, Grennan refuses to let it phase him. "I turn my nerves into excitement so that I don't really get nervous," he adds. It's safe to say with this new attitude and channelling his nerves in to ambition, there are more big things on the horizon.


[ad_2]

Source link